In our stories section we feature the women and living muses surrounding the brand. We don't understand the contemporary muse as something elitist, it can rather be any woman or person we meet on the streets. The muses that inspire us are the women in everyday life and those around us, mothers, daughters, grandmothers and anyone who identifies as such.
Sofie Royer in our blue Nix Bathingsuit
in France, St. Tropez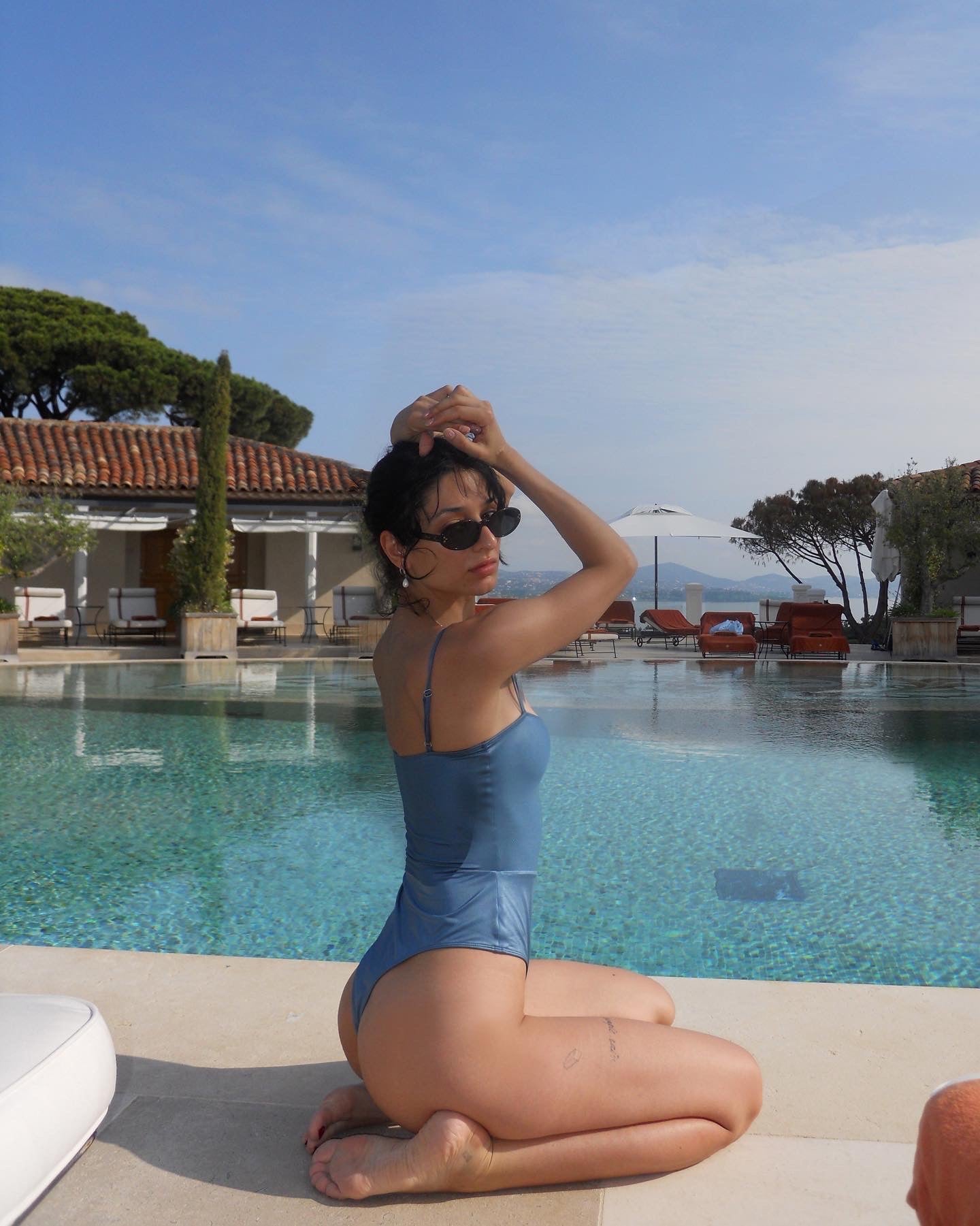 Zodiaque Talks #02 with stylist Viviane Hausstein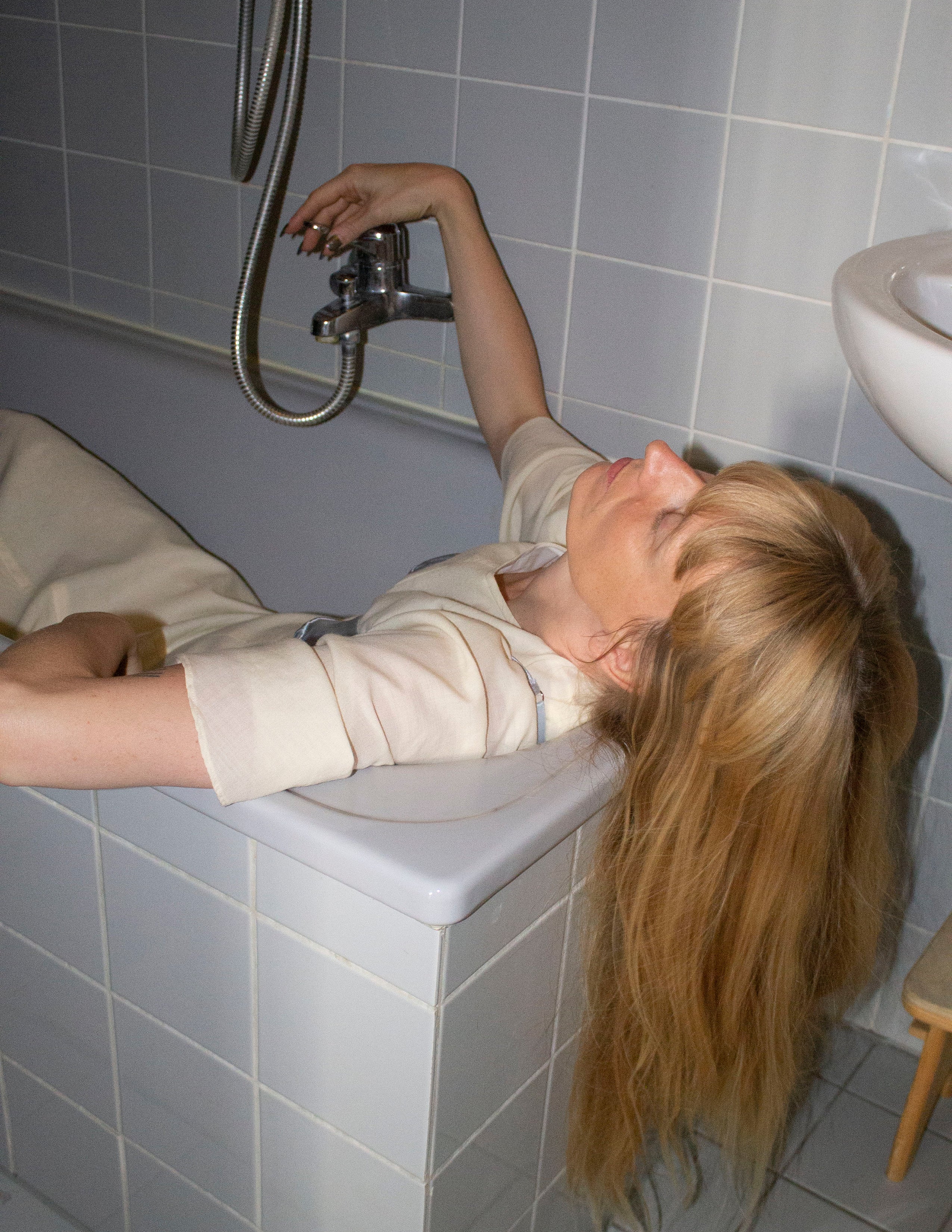 You spend a lot of time in Italy. What is your favourite thing about Italy?
What I really love and admire about the Italians is that they never get bored of talking about food and cooking. Even while they sit on the table and having lunch or dinner. They always try to get the best out of it even if it's already super delicious and incomparably good. Also I appreciate their sincere love for beauty. I was born in Berlin so I was always trying to find beauty in things even if there wasn't a spark of it. That taught me of not taking beauty for granted and to define my own idea of it. But in Italy I never get tired of the amount of beautiful things, because they exist in the most complex but also simplest way which makes everything so vivid and inspiring. 
Why do you work in fashion? 
I love the idea of creating unique stories as I do love the energy of a good team play with passionate people. 
Who do you like styling the most and who would you love to style one day? 
I have to say that I prefer to style women compared to men which doesn't mean that men aren't inspiring. I do love the feminin, playful and vulnerable side in all human man kind and I enjoy to play with genders. Kids styling is pretty much fun as well as most of them are far away from 'being perfect' and there is often a lot of natural movement that inspires me to new shapes and combinations. 
In regards to my personal client hero I have to say that I really love to work with courageous people with a willingness to take risks, like for ( a very famous ) example: Rihanna. She is pushing borders. Always a plus in fashion. Another life goal would be working with one of my favourite directors for their movies like Luca Guadagnino or Paolo Sorrentino. 
What inspires you when styling? 
The idea of creating something that you still love in 10-15 years when you look at it again. That mostly happens when you include a bite of your own personal story or a documentary. 
What is your everyday look? 
I love to wear colourful PJs. Plus a wool sweater on top, air-dried freshly washed hair and Birkenstocks. And if I can manage it timewise a little bit of color on my lips. Besides that I am a proper dress girl. Barefoot preferred.
What is it like being a mother of two? 
Chaotic, stressful, exciting, overwhelming, makes me proud every day, fullfilled with love, the biggest joy but also being worried for the most important things in life, my kids. 
What is your favourite movie?
It's hard to decide which one is the number one as there are so many important movies.
But one I really love and saw thousand times is Magnolia from Paul Thomas Anderson. Everything from Sorrentino like La Grande Bellezza, Tree Of Life from Terrence Malick or Love from Gaspar Noe, hottest sex scenes with the hottest threesome. 
What are you reading right now?
I unfortunately am a very bad reader I must confess. Recently I read a letter exchange from Rilke to a friend. That was the present of a very good friend of mine. She gave it to me after we took the so called Rilke walk very close to Arco in Italy and we spent time together while her boyfriend read poems of Rilke and we enjoyed the beautiful nature stroll. Murakami is still waiting to be finished.
What is your favourite way of styling your ZODIAQUE pieces?  
I love to wear the shiny Athena Bra with my comfy brown linen pants and barefoot somewhere in the nature during a warm spring day like I recently did. 
What is the last thing you got in trouble for? 
To me trouble is always around the corner especially in these times wherewe all get tested by the universe all the time. I try to avoid trouble as I love to be in peace and prefer to have a neutral positive mind. But sometimes energy needs to be released, like a lightning discharge, and afterwards there is calmness again. So I am the last person who's judging a proper passionate discussion. 
What do you think about love?  
Love is everything. You can find love in everything. It's this moment when you feel seen and accepted, when you feel connected to something or someone, when you are curious to dive deeper into something. For true love you need patience and an open heart.  
We met Viviane in her apartment in Berlin. Check out her Instagram @vivianehausstein. 
Zodiaque Talks #01 with artist Johanna Dumet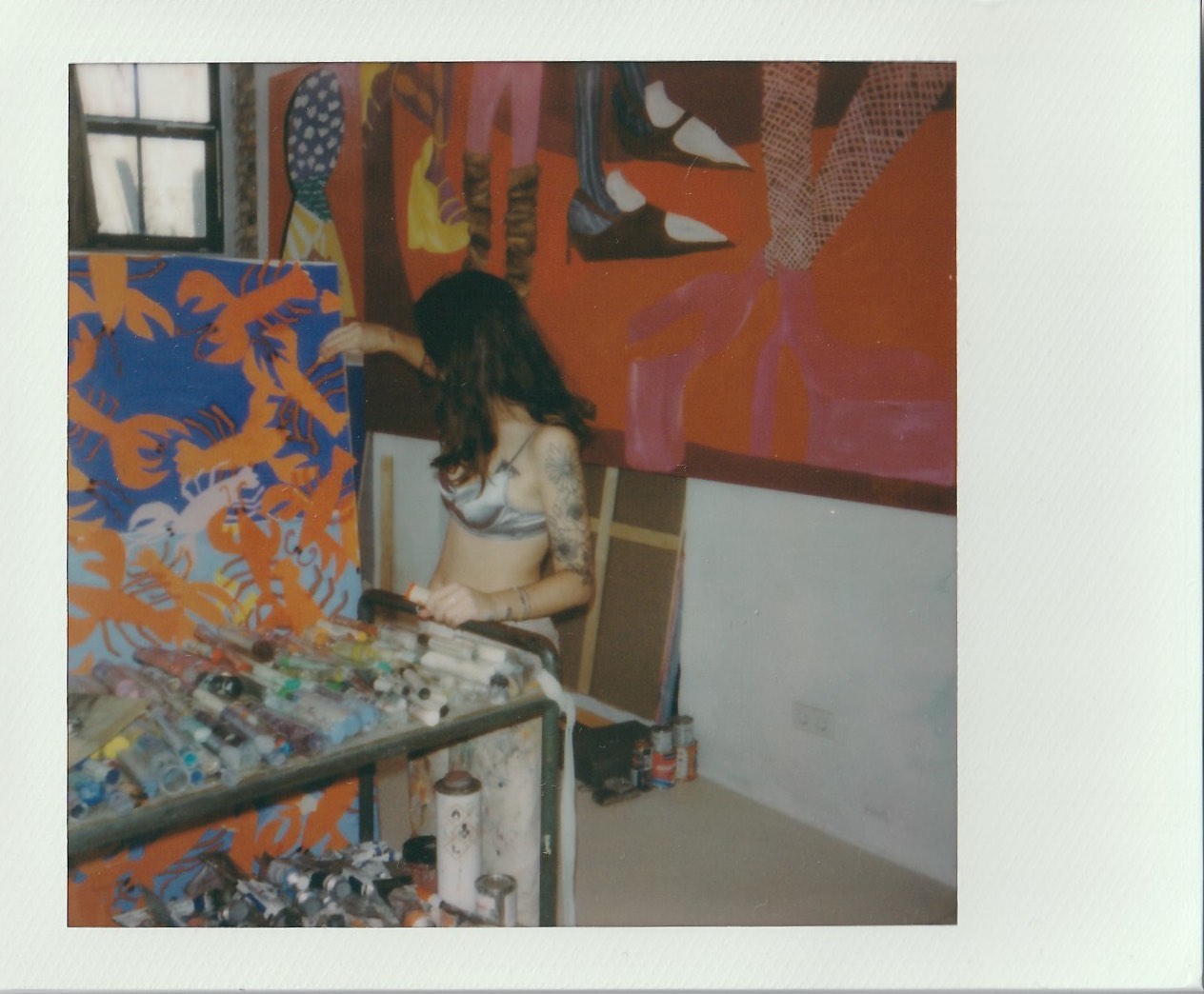 Tell me about your childhood.

The French countryside, a house without neighbours in the middle of nowhere, cats, chickens, goats, fish, fruit trees, a big garden, lots of freedom and space to grow as a child. Space to create and just be myself. At the age of 5 I announced that I was going to be a painter, and I've kind of been working on it ever since.
What I loved most about my childhood is that I could really feel each season, they all had a really strong smell. I'm lucky that I can relate smells and feelings to the weather because I spend so much time outside.

What is your favourite dish from that time? 

My mum made so many cakes and pastries for us, I was always in the kitchen licking the empty bowls and trying to help. My father's hachis parmentier and my grandmother's pâté aux pommes de terres.
What do you associate with ZODIAQUE? 
ZODIAQUE is like a double skin, the silk feels so good on the naked body. I feel beautiful when I wear ZODIAQUE. I feel confident, and because the sets are so pretty, I can show them off, maybe I open one more button on my shirt, or I wear a transparent top, maybe a thin silk skirt. I think we should really all celebrate our bodies, life is short!

Why is desire such an interesting topic for you in your art?
Because desire is an irrational emotion, it's so strong and powerful, and on a certain level it can drive people crazy. It is something very human.
My paintings are themselves an object of desire, they are hard to get, and sometimes I see how far people are willing to go to own one. Fascinating!
What role do clothes and underwear play for you? 
Dressing, starting with the type of underwear I will wear on the day, is quite important. It has a lot to do with what mood I'm in in the morning.
I love getting dressed up, I always have, but I also always have to feel comfortable. I'm very active, I'm constantly working with my hands, I have to be all over the city sometimes, in the studio, at meetings and in galleries. Over the years I have really understood what goes well with my body shape, I always opt for a good cut, natural fabrics and something colourful. 
What do you associate with silk? 

When I studied fashion design, I had the opportunity to learn about fibres. Silk was made in China before the birth of Christ, it stayed in a limited area, but at a certain point they opened up to the world with the legendary Silk Road. 
Silk is history, it is still considered one of the most luxurious fabrics, so it makes perfect sense to wear it so close to the skin. In France, grandmothers say that if you are in pain, you should wrap your body in silk to make it better. 
Do you like poetry? 
When I'm in the right mood, yes. One of my favorites is by Charles Baudelaire, called "La beauté".
Who is your style inspiration? I've really been inspired everywhere, from repeatedly watching Sex and the City or Vogue, from the it-girls on Instagram - I follow some really cool girls - from folkloric costumes, from vintage shops and from watching fashion shows of my favourite brands, but if I had to name one woman who has incredible style, it would be Blanca Miró without a doubt!
You have a new studio in Berlin. What do you like most about it?

I love the new studio, it almost makes me feel like I'm in the country. It's my playground, it's big, and although I share it with my boyfriend (the sculptor and artist Manuel Wroblewski), we both have our own floor, our own space and our own freedom. I'm there almost every day, and every day when I open the door I say out loud: "Oh, how nice to be here".

What is your favourite piece from ZODIAQUE?

The blue Venus Brief, it's so comfortable. It feels like I'm not wearing any underwear at all!
What is your zodiac sign? 

Gemini
Johanna Dumet lives and works in Berlin. Check out her Instagram @johanna_dumet to see her work.